For naturally coloring and reinforcing hair
100% fine sifted Lawsonia inermis (Henna) Leaves
Our Pure Henna supplies a subtle red tint, a powerful antifungal for a healthier scalp, in addition to strengthening and thickening the hair shaft.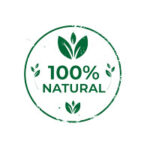 Nourishing & Natural Hair Colorant
Henna is a safe and natural hair colorant that has been used for thousands of years for the benefits it holds and will surely get you hooked up too! Our Pure Henna is carefully cultivated, picked, and ground into a fine-sift powder for better mixing, rinsing, and color depositing. Its main unique ingredient, Lawsone, serves various advantages such as eliminating dandruff, minimizing breakage, and stimulating hair growth.
Suitable for all hair types and ages. Suitable for use on chemically dyed hair.
How it works:
Lawson dye compound: stains and coats the hair when applied, providing a reddish tinge to hair.
How to use:
Start mixing your henna paste 8 -12 hours before you intend to color your hair.
Mix the henna powder with lemon juice or apple cider vinegar, until a paste with a yogurt-like consistency is achieved.
Cover the bowl containing the mix and let it sit for 8-12 hours.
Before applying the henna, cleanse your hair to remove oils and product build-up. Do not apply any products.
Section your dry hair into small thin sections, and apply the paste on the areas you desire to color, making sure all the hair strands are saturated.
Leave the henna on your hair for 4-8 hours for best color results. Alternatively, we recommend that you use The Infusion Hood on a warm heat setting for 45 minutes to cut the coloring time to 3 hours only.
Rinse thoroughly with water only, and use conditioner generously to get the powder out of your hair easily.
*You can freeze any leftover paste and use it later.